Bicycle accident lawyer
Girgis Law Firm has the experience and compassion to ensure maximum recovery from your bike accident
Let's look at some fast facts:
Each year, around 55,000 cyclists are injured in the US where the injuries are serious enough to file a report, according to the National Highway Traffic Safety Administration (NHTSA)
In California there are 235,000 traffic accidents a year on average, and the bicycle injuries make up 5.3% of total injuries, according to Bay Area Bicycle Law
California is often first in the nation for cyclists' deaths in a given year. Bicycle deaths in California make up 4% of all auto accident deaths in the state which is double the national average of 2%
The pain and utter shock of getting hit by a motor vehicle can be traumatic, especially if you're on your bicycle. While you recover, bicycle accident lawyer Anthony Girgis will work behind the scenes to get you the maximum recoverable settlement amount to compensate you for all your pain, suffering, and inconveniences. At the Girgis Law Firm, APC, our bicycle accident lawyers work only on a contingency fee basis. This works in your favor because if we don't win the trial or reach a settlement, you will not be required to pay us any fees.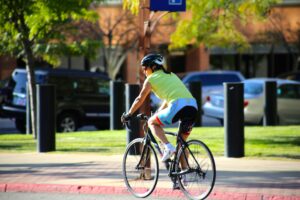 What can you expect when our bicycle accident lawyers agree to take your case?
Once you have retained our bicycle accident lawyers as your legal counsel, we will immediately spring into action and communicate with the adjusters who are employed by insurance companies. As we manage all communication with the insurance companies, your main priority will be to obtain the medical treatment necessary to relieve you of your pain and suffering. If you need medical assistance, we will recommend any of the highly qualified and regarded physicians in our network.
How do I know if I need a bicycle accident lawyer?
If you've been in a bike accident and it was caused by someone else's negligence, immediately get in touch with a qualified and seasoned bicycle accident lawyer. Why? A bicycle accident lawyer will negotiate with insurance companies on your behalf, can help you maximize your settlement or compensation, and can even help you find additional medical attention or treatment.
Contact Girgis Law Firm today to request a free consultation: you can fill out our contact form or call directly at (818) 986-5000.